¡¡¡¡Before browsing, please download and install the Comic Reader(QJReader) software.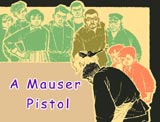 A Mauser Pistol



Sumo
Pictured by Cao Hui

Red Stone (3) Shaping Incident
Pictured by Han Heping, Luo Pan, Jin Kui, Gu Bingxin

Meng Yunniang
Pictured by Ye Yuzhong

Fairy Pearl
Pictured by Liu Wangbin

A Copper Button (II)
Pictured by Yang Yiling

Captain Grante¡¯s Children (1)
Pictured by Chen Yanfan


¡¡¡¡¡õYoung Chinese generations' art works. The teenage authors learned a great deal from the west, and integrated the western drawing skills and styles with Chinese traditional drawing skills.
| | | | |
| --- | --- | --- | --- |
| Alme | Peachblossom Face & Bamboo | Cleopatra | Goal! |
| | | | |



Stage A Comeback
The original Chinese idiom:
"Dong1 Shan1 Zai4 Qi3": "Dong Shan", the name of a mountain; "zai", again or once more; "qi", achieve great achievements.