¡¡¡¡Before browsing, please download and install the Comic Reader(QJReader) software.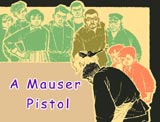 A Mauser Pistol



Wreaths
Pictured by Hu Shaofei

Columbus
Pictured by Huang Yunsong

Huang Ying
Pictured by Zhang Xiwu

Red Stone (1) The Storm in Chongqing
Pictured by Han Heping, Luo Pan, Jin Kui, Gu Bingxin

Greed Spring
Pictured by Lu Yan'guang, Meng Fudan

Geng Niang
Pictured by Chen Huiguan


¡¡¡¡¡õYoung Chinese generations' art works. The teenage authors learned a great deal from the west, and integrated the western drawing skills and styles with Chinese traditional drawing skills.
| | | | |
| --- | --- | --- | --- |
| China Girl | Man | Japanese Boy | Fly |
| | | | |



So Devoted to Public Service As to Forget Private interests
The original Chinese idiom:
"Gong Er Wang Si": "gong", public services; "er", auxiliary word, equals to "so that"; "wang", forget; "si", private interests.