¡¡¡¡Before browsing, please download and install the Comic Reader(QJReader) software.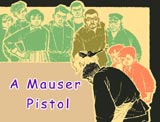 A Mauser Pistol



Ten Brothers
Pictured by Zheng Jiasheng

Imperial Envoy
Pictured by Hu Zhenyu

Sparkle (II)
Pictured by Luo Xixian

Edward Jenner
Pictured by Wang Chong¡®er,Wang Chongying

Xiang Yu
Pictured by Pu Huihua

A Strange Thing
Pictured by Wang Guanqing


¡¡¡¡¡õYoung Chinese generations' art works. The teenage authors learned a great deal from the west, and integrated the western drawing skills and styles with Chinese traditional drawing skills.
| | | | |
| --- | --- | --- | --- |
| Romantic Season | China Girl | Bore | Dragon |
| | | | |



Open the Door to Welcome the Robbers
The original Chinese idiom:
"Kai1 Men2 Ji2 Dao4": "kai", open; "men", door; "ji", welcome; "dao", robber or bandit.