¡¡¡¡Before browsing, please download and install the Comic Reader(QJReader) software.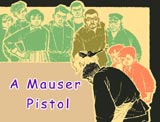 A Mauser Pistol



The Stories of A-Q (2)
Pictured by Cheng Shifa

A Strange Thing
Pictured by Wang Guanqing

Zheng Banqiao
Pictured by Wang Yiqiu

The Growing Experiences of an Orphan
Pictured by Chen Yunchang

Secret of a Sculpture of Buddha
Pictured by Pan Honghai

Trapped at White Tiger Sanctum
Pictured by Yan Meihua


¡¡¡¡¡õYoung Chinese generations' art works. The teenage authors learned a great deal from the west, and integrated the western drawing skills and styles with Chinese traditional drawing skills.
| | | | |
| --- | --- | --- | --- |
| Concerto | Shoot the Dog Star | Girl in the Graveyard | The Fool Who's Reading SMS |
| | | | |



Prove Decisive
The original Chinese idiom:
"Ju3 Zu2 Qing1 Zhong4": "ju", lift or move; "zu", foot; "qing", light; "zhong", heavy; it means that a slight move of the foot would have great influence.